Generators
Before the widespread use of electric heat, waiting out a power outage simply meant kindling up the fireplace and cozying up together for warmth. Not so much now, though. Since we have become more and more dependent on electricity for everything we do, the effects of a blackout on your home and the surrounding area can be catastrophic. For example, basements can flood, leaving houses heavily damaged and landing their owners with possibly hundreds or thousands of dollars in restoration costs.
A loss of electricity can hinder businesses, too — especially since more and more Americans are choosing to work from a home office. The power outage that takes out their home might just take out their workplace, too.
To combat this problem, many people are now turning the simple survival home generators they once used to power small appliances and lighting into full-sized, 10,000-plus-watt generators capable of powering the whole house.

What Kinds of Generators Are Out There?
When it comes to powering your house during an electrical outage, you have two different generator options: portable and standby.
Portable generators run on unleaded gas and are designed to provide limited power for the home. In comparison, standby generators are designed to provide 24/7 blackout protection, supplying power right when a blackout happens. Usually, home standby generators are permanently installed and operate off natural gas or another existing fuel supply. Portable generators operate in much the same way, except that they can be moved as the situation requires.
When it comes to choosing a portable generator size, there are several different options, each with their own wattage amount, tank size and starter type.
Medium generators are typically connected to the house by an extension cord and can be used to power survival appliances like basic lighting, heat, cooking areas and more. They come in watt ranges of anywhere from 1,000 to 5,000 watts, with gas tanks ranging from three to eight gallons. Most come with either recoil or electric starters and they can be purchased for as little as $400.
Large generators range from 6,000 to 8,000 watts and are usually connected to the house by an extension cord or a transfer switch. They work best with the use of manual transfer switches, since they can then be used to restore power to up to 10 of the main circuits on your circuit board. This means they can be used to power several rooms in the house, minus central air conditioning. Large generators have a larger gas tank reserve (5.7 to 9 gallons) but typically rely on the same recoil or electric starters as their medium counterparts. The increased gas tank comes with a price hike, though — compared to the $400 for a medium generator, most large generators start around $700.
Extra-large generators are some of the best generators for home use — especially if you want to thrive during a power outage instead of just survive. At 10,000+ watts, extra-large generators offer the strength of a home standby generator without forcing you to tie it down to a specific area.

Powered by an 8-to-16-gallon gas tank, an extra-large generator kicks out enough juice to power a small house. Like their large siblings, extra-large generators use electric starters. However, the large tank — and the large motor that comes with it — comes at a premium. Extra-large generators can easily hit the $2,000+ range.
In contrast to portable generators, standby generators for home use aren't categorized by a size. Instead, they're divided up by the number of watts they put out. Standby units can run from 5,000 watts for a basic unit all the way up to 30,000 for top-of-the-line advanced units.
Choosing which one is best for you depends on your budget and what you're going to use it for. If you just want to power the basics, a portable medium generator will do just fine. If you're looking for something that will act as a silent backup to your whole house, an in-home standby generator is probably your best bet. However, even compared to portable generators, they can get pricey at $5000 for a 7,000-watt model, with the price only going up from there.
So, before you decide on what generator you're getting, figure out what kind of generator you need.

How Big of a Generator Do I Need to Power My House?
When it comes to choosing the best portable home generator or the best standby generator for home use, there are several ways you can figure out the wattage you need. List what matters to you. Common essentials include the refrigerator, a portable heater, computers and lights. You should plan on needing about 5,000 watts to cover the basics.
As for what size generator you need to power the refrigerator and other essentials, it depends on what else you're powering. Since the refrigerator itself will only run about 600 watts, you could feasibly get away with a medium-sized portable generator. Even at its lowest setting, that would be able to run your refrigerator and a couple other essentials — and that may be all you need. However, some people prefer to get their whole house running.
So how many watts in a generator are required to run a house? It depends. The obvious basics like a refrigerator (600 watts), sump pump (750-1,500 watts), air conditioner (1,000 watts), heater (1,500 watts) and lights (60-600 watts) could run anywhere from 4,200 watts all the way up to 5,600 watts. Add on amenities like computers (60-300 watts) and that number can climb even higher.
A 7,500-watt generator can run most of the essentials in an average American home, but how much of that wattage you'll actually use will vary from family to family.
How to Find the Best Generator
Choosing the correct generator for your house depends, again, on your needs. However, sites such as Consumer Reports often offer lists of generators at varying price points along with reviews. It's best to look over the reviews, review the specifications and even go see the model in-person before you even think about buying a generator.
Here are a couple different options to get you started, organized from least to most expensive.

Duromax XP4850EH
One of the smaller portable generators on the market, the Duromax XP4850EH still kicks out a respectable 3850 to 4850 watts of power, depending on whether you're using natural gas or propane. The generator also features an electric key and easy-pull recoil start, meaning you don't need to rely on a battery to get your generator running in the middle of an outage.
Like most of its portable cousins, the Duromax also features several outlets for plugging in your extension cords or chargers. However, it also features a dedicated quiet exhaust, making it possibly one of the better quiet portable generators for home use — most portable generators require hearing protection within 50 feet.
Generac RS7000E
Rated at 7000 watts, the Generac RS7000E portable generator is what's typically referred to as a "large generator," capable of powering several of the main circuits on your circuit board. The RS7000E runs on regular gasoline, making it easy to find a power source even in the middle of a power outage. The generator takes eight gallons of gas and has a low-fuel shut-off in case you run low.
The generator body also has five power outlets, meaning you can charge several devices from the generator in addition to using it to power your house.
Kohler PRO7.5E
The PRO7.5E generator is another large portable generator. It's rated for 6,300 watts instead of the RS7000E's 7,000. What it lacks in wattage, however, the PRO7.5E makes up in other ways, including an extra outlet slot (six instead of five), an electric starter and shutoff and a fuel gauge and hour meter for tracking usage.
Much like the RS7000E, the PRO7.5E runs on an eight-gallon tank and takes regular gasoline, making it easy to find fuel before, during and after a power outage.
Champion Power Equipment 100174
One of the quietest home generators in its class, the Champion Power Equipment 100174 puts out 8,500 watts on propane and 7,500 watts on natural gas, meaning you'll have power for your home no matter what. The 50-watt indoor power switch ensures a seamless transfer to the generator in case of an outage, ensuring 24/7 power.
The generator can also start in a variety of temperatures — from as low as -22 Fahrenheit to as high as 104, making it ideal for a wide variety of conditions. The generator's gull-wing enclosure and included mounting pad make for easy installation and service, meaning you'll have your new home generator up and running in a flash, ready to take on whatever the next power outage throws your way.
Generac 6237
The smallest stationary standby home generator on the list, the Generac 6237 runs on either natural gas or propane. If running on natural gas, it'll kick out 7,000 watts, while a tank of propane will allow it to kick out about a thousand more at 8,000 watts. No matter which fuel source you use, the Generac 6237 will suit you just fine when it comes to keeping your house running during an outage.
The generator has a 250-gallon tank, too, meaning that even in the worst-case scenario it'll keep your home's power flowing. However, this capability comes at a cost: the Generac 6237 has no electric start battery, unlike the other models on this list, and doesn't come with a fuel gauge or power outlets. This generator is purely designed to power your home. Still, for the price, it's one of the better standby generators for home use.
Briggs and Stratton 040450
Pumping out 10,000 watts on natural gas, the Briggs and Stratton 040450 is one of the smallest standby home generators in its class. But don't let that size fool you — it's perfectly capable of powering a good-sized house. The included 200-amp transfer switch means the generator can sense when your power goes out and have everything from the lights to the refrigerator back up and running in seconds.
Each Briggs and Stratton generator is also warrantied for parts, labor and travel for five years — a sign that Briggs and Stratton stand behind the products they put out.
Kohler 14RESAL
Probably one of the best standby home generators on the market at its price point, the Kohler 14RESAL stationary home generator kicks out a staggering 12,000 watts on natural gas or 14,000 on propane, meaning it will more than satisfy your power needs during even the worst power outages.
Like its smaller cousin, the Generac 6237, the Kohler 14RESAL features a 250-gallon propane tank as well as a line to hook up to natural gas, meaning it can run solely on natural gas if need be. Since it's a stationary generator intended for home use, the 14RESAL has no electric start switch and no real need of one. It also lacks a fuel gauge, but because it can simply connect to a gas line, there's no fuel to monitor.
The sheer amount of power that the Kohler 14RESAL kicks out makes it one of the best whole-house generators on the market. It's more than capable of powering your lights, refrigerator, heater and all the rest of your basics, along with all the creature comforts you'd need to wait out the storm.
Things to Keep in Mind When Choosing a Generator
While there are dozens of different generator models on the market today, there are some things you need to keep in mind when it comes to choosing your generator.
Wattage: Does the generator put out enough watts to cover your needs?
Size: Do you have the space for a full-sized home standby generator? If not, can you find a portable generator that fits your needs?
Installation: While portable generators can just be wheeled into place and connected with an extension cord, in-home standby generators should be installed and wired into your home's electrical system by a licensed electrician.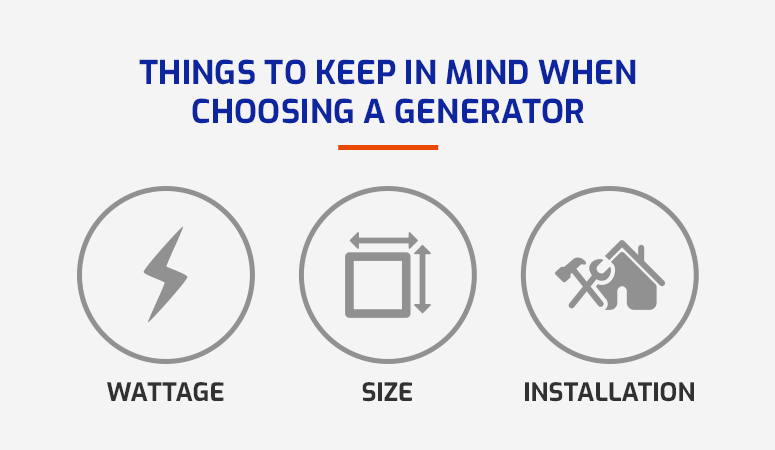 Trust Lippolis Electric for All Your Generator Installation Needs
For more than 30 years, Lippolis Electric has been providing the highest-quality electrical work to the residents of Westchester County. Our team of licensed technicians is available 24/7 to tackle any need that might arise.
We provide a variety of services, including residential, commercial and general maintenance plus generator care and installation. Don't spend ages fussing around with your generator's wiring, trying to get it to work — instead, just call us. We strive to ensure that our technicians provide the friendliest and highest-quality service they can.
We can perform maintenance on gas, propane and diesel generators. We'll find signs of problems and fix them before they come to pass. Our technicians can also replace worn-out parts, check and top-off fluid levels and replace fuel and air filters as needed. These are all essential steps to ensure that your generator is working properly.
For more information about the generator installation and maintenance services we provide, feel free to contact us on our website or call us at 914-738-3550.